Toronto: 600 Sherbourne St #609, Toronto
Richmond Hill: 9140 Leslie St #301
WELCOME TO
PARAMEDICAL TATTOO CLINIC

We specialize in tattoo related treatments such as laser tattoo removal, hair tattoo (scalp micropigmentation and scalp micropigmentation regrets), RF microneedling, lip blushing, and microblading eyebrows.
SCALP MICROPIGMENTATION and SCALP MICROPIGMENTATION REGRETS
If you are losing your hair and would like to regain the look of fuller hair or recreate a new hairline that have been lost due to androgenetic alopecia, we can help.  Scalp micropigmentation is a method of placing tiny dots of pigment into the skin (scalp area, beard, or mustache) to replicate the look of real hair stubble. 
Even at close range, if performed by an expert SMP technician, the SMP is indistinguishable from the real hair.  We say "expert" because we do get a lot of clients who come to us to help them remove their blotched SMP performed by bad SMP technicians, one of the treatments we also offer.
If you are experiencing scalp micropigmentation regrets, then we offer SMP removal using the Gold Standard PicoSure laser tattoo removal. New FLAT FEE pricing at only $250 per session up to 6″ x 6″.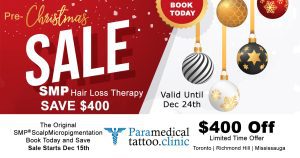 OUR PARAMEDICAL TATTOO CLINIC
SERVICES

LASER AND NON-LASER
TATTOO REMOVAL

PICOSURE LASER TATTOO REMOVAL
We use the latest state-of-the-art laser equipment to perform your laser tattoo removals.   The Cynosure Picosure laser is considered the gold standard in laser tattoo removal. Picosure creates an intense photothermal impact called PressureWave technology. This laser machine can removal remove black, red, brown, yellow, purple, green, and blue ink.
WHAT IS NON-LASER
TATTOO REMOVAL?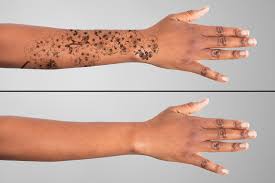 We'll connect you to
world-class specialists
We'll help you manage a range of conditions